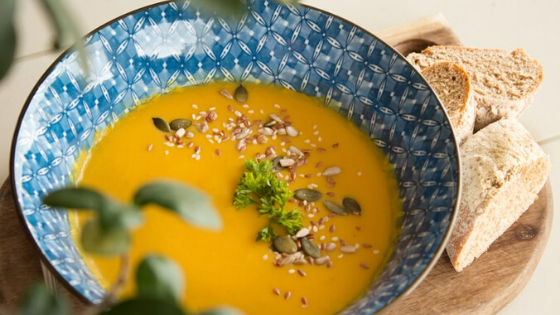 Soon, winter will be knocking on the doors of our New Bern, NC apartment community. While fuzzy slippers and cozy blankets can help keep the chilly weather away, sometimes good food helps, too. With this in mind, we've found some great pumpkin recipes that'll transition you from fall to winter with a happy belly.
1. Pumpkin Breakfast Bowl
They say breakfast is the most important meal of the day, so you don't want to skip it. Instead, put pumpkin to work in your favor with this pumpkin breakfast bowl with pumpkin spice granola. It's kind of like a smoothie in a bowl, delivering optimum fiber and flavor in each spoonful.
2. Pumpkin Soup
Nothing warms the heart quite like a hearty bowl of soup. This season, pumpkin soup is your best bet for ripe produce that'll brighten up your bowl.
3. Pumpkin Lasagna
This pumpkin lasagna recipe isn't hard to make, but your guests will surely be impressed. Like many great meals, the oven does most of the work, and since you use pre-made refrigerated ravioli, you don't have to worry about a big mess in the kitchen. The beauty comes with the combination of pumpkin, herbs, and spices.
4. Pumpkin-and-Winter-Squash Gratin
Are you tired of eating the same old side dishes day after day? This pumpkin-and-winter squash gratin should help mix things up a bit. It utilizes some of the best seasonal produce, such as russet potatoes, butternut squash, and sugar pumpkins, to impart the flavors of autumn in a brand new way. This is a great dish for any weeknight dinner. Or, if you're heading to a potluck for a holiday get-together, it'll surely be the star of the show.
5. Pumpkin Scones With Cheese
Whether you need a grab-and-go breakfast item or you're looking for a bread that can soak up the rest of your leftover soup, these pumpkin scones with cheese are a great addition to any plate. They go great with coffee, hot chocolate, a lunch-time salad, or any delicious entree you're planning for dinner.
Are you looking for an apartment in New Bern, NC where you'll love to get creative in your kitchen? Woodland Crossing Apartment Homes would be happy to welcome you as our newest resident. Schedule your tour today!