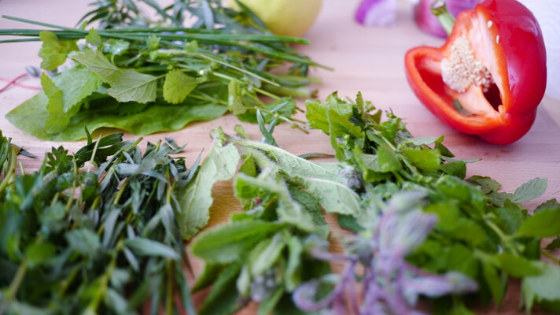 If you're like some of the residents of our New Bern, NC, apartment community, getting creative in the kitchen often can come with a lot of leftover waste. Sure, you can freeze the food that's made in excess, but what do you do with the sauces, veggies and fruits that didn't find their way into your dishes?
Fear not! There are some simple ways you can make the most of your grocery shopping endeavors without leaving lots of waste in the landfill.
1. Freeze Herbs in Ice Cube Trays
Fresh herbs seem to go bad long before they can actually get put to use. This, of course, can put a hit on your wallet. To avoid tossing fresh herbs in the trash before you've gotten a chance to experience their glory, freeze them in ice cube trays after you coat them with some olive oil. They'll be ready to toss into a skillet or casserole at a moment's notice.
2. Plan Your Next Grocery List Around Leftovers
Instead of starting your grocery list from scratch every time you head to the store, take inventory of the treasures your kitchen already has behind closed doors. Canned beans can easily serve as the foundation for tacos or burritos. Leftover chicken can be shredded and turned into tons of different casseroles. A cupboard full of rice is just begging for a little creativity. See how you can use your existing foodstuffs, whether they're in the fridge, freezer, or cupboards; then build your grocery list around those items. This way, even leftovers can be given new life on the dinner table.
3. Freeze Sauces and Broths in Muffin Tins or Ice Cube Trays
It's so frustrating when you get to the bottom of a jar only to discover you don't need the remnants of sauce or broth, but if you put it in the fridge, it'll likely get tossed in a few weeks anyway. So, what do you do? Pour your liquids into ice cube trays or muffin tins. They'll freeze into single-sized portions that can be stored in zip-lock baggies and called upon whenever you're ready for them.
Are you searching for an apartment where you'll feel free to stretch your kitchen creativity? Schedule a tour of our Woodland Crossing Apartment Homes, so we can give you a personalized look around!