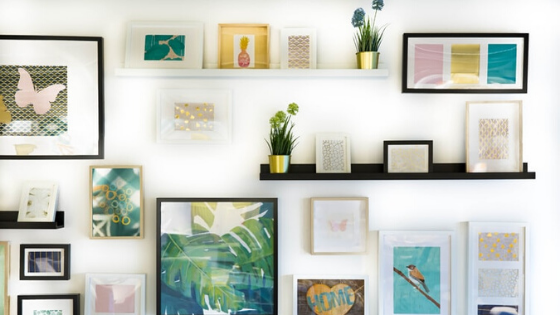 You have many ways to get precious photos off of mobile devices and into a more permanent and visible location. Custom photo books, a tabletop photo viewer and a projector slide show are some options to take your best photography from the digital world to share with the real world.
Another way to display your favorite photos is with a wall gallery. Here are some tips for creating the perfect wall gallery.
Photo and Art Wall Concept Tips
Plan it out first!
An art gallery should be visually orderly. Sketch a few conceptual layouts on paper first, or lay the framed art pieces on the floor until you achieve an inspiring look. You can arrange photos according to color tones, by themes (like your Caribbean vacation) or even by grouping similar-size photo frames.
Hang level and uniform
The two key technical aspects of getting your gallery wall perfect are to hang pictures level (that is, each photo should hang straight on its own and alongside all other photos) and with uniform white space between each piece. This will give your photo arrangement the look of neatness and professionalism. Here is a helpful video on how to hang several picture frames level on a wall.
The right tools
Make sure you have all the right tools on hand first, including your hammer, a power drill, wall anchors, a level, hanging wires, and a measuring tape. Check with your apartment management team before drilling holes and especially before using adhesive wall hanging devices to learn what the rules for hanging pictures are for your community.
Work from the bottom up
You want the center of the entire gallery of art to be just slightly above eye level. So here again, measure the overall space you will need to hang your wall art, then hang your bottom piece first. When mounting behind a couch, start the lowest piece at least 6 inches above the sofa back.
We hope this blog has inspired you to creative ways to use your beloved photos and open wall space at your Woodland Crossing apartment home in Bern, North Carolina. Our apartments are located in a quaint neighborhood, just moments from historic downtown New Bern, shopping, entertainment, and the business district.